New to Halle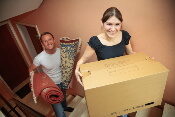 To be new in a city is always a challenge. Halle would like to make it easy for you and greet you with a warm welcome!
Discover our beautiful city, where it takes sometimes pays off to take a second glance.
For more information on the city's culture, art and history visit "Culture & Tourism" on our website.
Register residency
Of course, such a beginning also calls for some visits to authorities. Sure you have checked before your move, what you need to consider. The new residence must be registered in the first few days. The dog and the car, if they exist, also have to be registered in the new city.
The civil service centres can assist you with the formalities. Beforehand, you can read all the information in our service portal on halle.de, comfortably in your new home.
Find contacts
But the most important this is perhaps to find new contacts. Halle Willkommen (Welcome to Halle) is a club that would like to share experiences from Halle's new citizens. In addition, the city offers a wealth of leisure activities. You can find things to do with others at about 2,000 clubs, initiatives and organisations.
Day care
If you have one or more children, you want to see them well cared for. Valuable information can be found under Day care. Halle also offers numerous playgrounds and recreational opportunities for children.
More information
If you have any questions, please browse halle.de or contact our city office. Would you like to receive regular information on the city? Subscribe to our newsletter, subscribe our website with RSS or follow the top news in town via Twitter.