Pregnancy and birth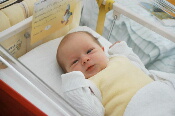 You are expecting a baby? An exciting time begins! Especially with the first child, there are many uncertainties. Here you can learn about the topics fertility, pregnancy, childbirth, parental leave and various supporting services.
Pregnancy
Pregnancy is for every woman a very individual experience. Find out now, which rights you have and which services are available to you in the following pages, at one of the many pregnancy counselling centres or from the information offered by the Federal Ministry for Family, Women, Seniors and Youth.
If you are considering an abortion, you are obliged to seek advice at an accredited crisis pregnancy counselling centre. The consultation is an offer to talk about your reasons for you terminate the pregnancy.
Birth
After your child has been born, its birth has to be reported to the registry office. If the child is born in a hospital, the hospital will register the child. If the child was born in a birth centre or at home, parents must register in person within a week. More information can be found at the birth announcement service.
A birth certificate or a certified copy of birth records may be requested from the registrar's office. All other information related to the birth of a child can be found in the services portal under birth.
Parental leave and parental benefits
Both parents are entitled to parental leave and to parental benefits. Parental leave can be taken until the child's third birthday or pro rata until the child's eighth birthday. Both mother and father can go on parental leave.
The parental benefits are an income-related federal subsidy during the child's first twelve months. They may be extended under certain circumstances for an additional two months.
Financial aids
Financial aids include child benefits and child benefit supplements. While child benefits are not subject to income and paid basically for all children up to age 18, child benefit supplements are a subsidy for parents whose income cannot cover the needs of the child. Child benefits and child benefit supplements are regulated by the Federal Child Benefit Act.
Additionally, benefits can also be paid during pregnancy. Whether and to what extent benefits are paid depends on the income of the persons concerned. Information on benefits during pregnancy can be found in the service portal "Family Guide" section.
Paternity
Fatherhood includes both rights and obligations. What they are and where you can find more information is details on the following pages. Whether the acknowledgement of paternity, custody, or alimony obligations - further information can be also found in the "Family Guide" presented by the Federal Ministry for Family, Women, Seniors and Youth.
Counselling
In some cases, however, personal counselling is useful, for example if you have financial problems or are stuck in a difficult situation. Then you can contact one of the pregnancy counselling centres.
If you experience problems in becoming pregnant, do not hesitate to contact the Kinderwunsch-Sprechstunde (counselling for people who desire to have children) or the office for adoptions. 
There are children who need you as foster parents. The city's child care service can provide further information.