Building and Residing
No matter whether one's own house, rented property or one's own flat, it is important that adequate housing provisions are available.. Those wishing to build or those looking for a flat will find ideal general conditions and qualified consultation in Halle.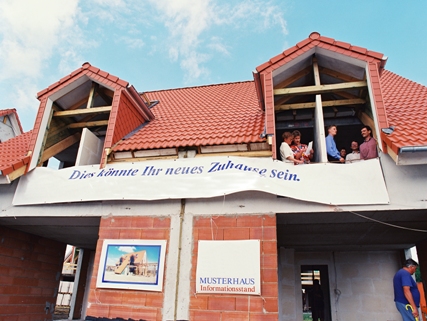 Building a detached house.
Building
If wanting to build on a plot of land or to make amendments to a house, one must first take certain things into consideration. Details of what has to be observed when considering building a new home, during construction, making amendments, change of usage or when demolishing, can be found in the building proposal guidelines for projects requiring planning permission. The responsible authority for processing building applications in the town of Halle is the office for building control and the protection of historic buildings and monuments. 
Purchasing property
Those who do not wish to build but would still like to become a home owner can consider purchasing property. This could be a flat or even a house with its own grounds. Besides this, the purchase of property including grounds or the purchase of a flat can also be used as a capital investment.
Renting a flat
There are many ways of finding a flat in the town of Halle. Flats can be rented from one of the numerous associations within the town or from one of the many private landlords. One should not forget that most flats in Germany are rented without furniture. When stating the number of rooms in a flat the kitchen, bathroom and hall are not included.
Further information concerning this topic: