Studying in Halle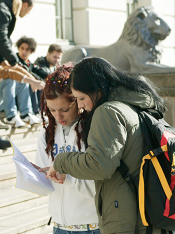 Hall is a university city with the best conditions for studying the humanities, natural sciences and engineering, art and design as well as for music. Halle's students appreciate their study location particularly because of its short distances, excellent teaching, the exciting cultural and leisure offers and the special atmosphere of the City along the Saale River.
The cosmopolitan university institutions have a long tradition in Halle (Saale): In 1724, the first African student in Europe, Anton Wilhelm Amo, enrolled at the Martin-Luther University in Halle-Wittenberg. The number of international students at the universities in the city today has nearly doubled since 2000.
Students and scholars from around the world are very welcome in Halle and are an important asset for the university and scientific locations in Halle.