Business and Scientific Location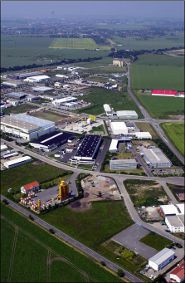 As a business and scientific regional centre, and with the 1.7 million people who live, work, research or study here, the town of Halle (Saale) is distinguishing itself as one of the most high-performing business locations in central Germany.
In a special way Halle links the character of a university town with that of a modern business centre. The high innovative strength of the over 500 year old Martin-Luther-Universtiy-Halle-Wittenberg, the worldwide famous Burg Giebichenstein Academy for Art and Design and numerous renowned non-university research institutes, offer businesses advantageous possibilities for cooperation and the recruiting of personnel. The nomination of The Leopoldina – which has been located in Halle for the past 120 years – as a German academy of science, confirms the scientific location's vast potential.
Nowadays, the town traditionally associated with salt mining, the chemical industry and plant engineering, shows strong development towards the service sector and research oriented and innovative business sectors. Of special importance within the town today are the social sciences, the micro/nano and solar technologies, the call and business centres, the media and IT businesses and also trade, banks and insurances.
With the second largest technology park in the East of Germany, Halle strengthens in particular the innovative future areas of the research and development sectors.