Welcome to the Händel town Halle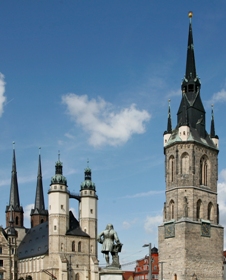 Halle (Saale) – it's your town – no matter whether you happen to be a visitor or a resident. A concentrated mix consisting of art, culture, relaxation, catering and shopping in a historically developed city centre makes the town popular and adorable.
There is much to listen to in Händel's native town (Händel Festival, Children's Choir Festival), to celebrate (Lantern Festival, Salt Festival), to look at (Himmelsscheibe (Sky Disc) Moritzburg Foundation, Stadtgottesacker, Franckesche Foundation, Dome, Marien Library) and to experience (Opera, theatres of the spoken word, and a music hall).
Halle (Saale) is a green town of residence and with its more than 7000 hectares of water and green spaces is also a leisure and sporting paradise. One is able to make use of its more than 180 sports clubs. In addition to this free time can be spent in the wonderful zoo, in the botanical gardens, at the racecourse, on Peißnitz Island, down at the banks of the river Saale or in one of the five cinemas.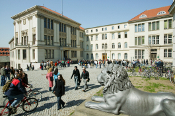 Besides this Halle (Saale) is an important business, technology and scientific location. Together with Leipzig, which is located at a distance of 38 kilometres from Halle, Halle (Saale) forms the centre of the urban economic metropolitan area of central Germany. Companies such as the Halloren Chocolate Factory Ltd. the Kathi Rainer Thiele Ltd. and the KSB Group, which are all located in the town on the banks of the Saale, are known throughout the country. Furthermore, numerous scientific institutes are represented here such as the Max Planck Association or the Fraunhofer Institute. The Martin-Luther-University-Halle-Wittenberg and the Burg Giebichenstein-Academy-of-Art-and-Design-Halle attract many thousands of students to Halle (Saale) each year. 
Halle (Saale) has an approximate population of 230,000 making it Saxony-Anhalt's largest town in terms of residents. It lies on the banks of the river Saale and has excellent transport connections.